Prune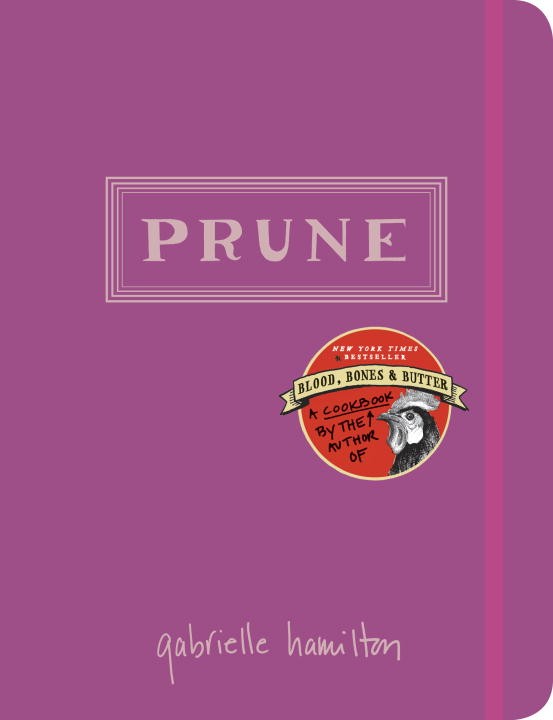 For our 9-month relationship mark, my boyfriend gifted me with this book (which I've been drooling over for months). Named after her incredibly successful NYC spot, this cookbook is written by head chef Gabrielle Hamilton.
I love it; it's an incredibly unique book, with recipes ranging from the simplest of dishes to complex techniques only a professional would know. Hamilton is a fiendishly good writer and chef. It's designed to look and feel like the restaurant's Book: the recipe collection that the chefs of Prune reference nightly. I love it for its intimacy; it also helps that Prune is one of my favorite restaurants.
Now a slight rant:
This book has generated a few haters because it is not easily accessible to the home cook. I get it. No index. It caters to a professional kitchen, with directions to the non-existent staff about timing and task delegation. It dares to put ostentatious, time-consuming recipes like suckling pig and marrow in it. Righto.
But all that is half the reason why I love it. It's an intimate peek into the life behind the grille at Hamilton's East Village restaurant.
In this case, I believe the haters are kidding themselves. I own many cookbooks, much more than I need, and I know that some are often for inspiration alone. You just don't use all of the recipes in every cookbook you own (if you do, that's actually pretty awesome). That's why there is an entire genre of cookbooks designed to sit beautifully and dustily on coffee tables or kitchen shelves. These "fantasy"cookbooks have huge, gorgeous photographs of food, but also of seascapes, cozy kitchens, tastefully set tables. The visceral experience of flipping through these books is akin to flipping through National Geographic or old family photos. They hold hidden scents and tastes of faraway places or deeply personal memories.
Prune
behaves the same way. It shows you a glimpse of a world you otherwise wouldn't be able to enter. If you want to make the recipes, that's up to you. I honestly don't think Hamilton cares all that much.